Windows 10: Microsoft explained than the desktop version will be different from each other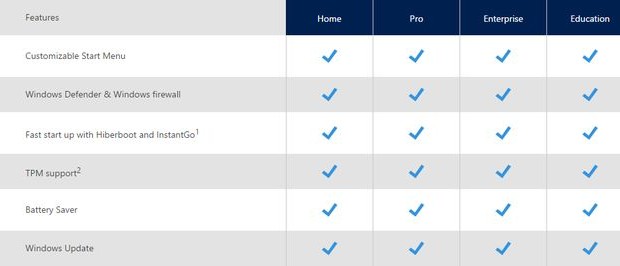 Before the release of the final version of Windows 10 is running out of time, and Microsoft is working hard not only on the software code (and for the past week have been released for three build), but also provides more and more information about your new product. It is known that A new version of the OS will be a wave , in addition, the company told about what four versions for desktop systems are different from each other.
As expected, the version will differ only in business functions. Base offers the same functions as the Windows 10 Home, and version Pro, Enterprise and Education. Such features include the Start menu, you can adjust the integration Windows Defender and voice assistant Cortana, and security features – "native" support for the fingerprint sensor, the module TPM (if any of the version 1.2 or higher installed on the PC) and Windows Update . If Windows 10 detects the touch screen, any of the new versions offer function Continuum, a new browser Edge will be accessible in any way. In normal everyday use Windows 10 Home is not anything different from Enterprise and Education.
Details will interest those who, for example, needs more OS security. Windows 10 Home, among others, will offer not only the encryption device, but also to mobile device management and passwords. Windows 10 Pro will offer features such as group policy, Bitlocker, remote desktop, Windows 10 Business Store, Windows Update, and other business.
Complete variety of functions It offers only Windows 10 Enterprise. This version of Microsoft will support the longer will be offered security features and Credential DeviceGuard, and AppLocker, and Windows To Go Creator. All of these features will be in Windows 10 Education, with one exception. Here, however, it will not be extended support. The main functions of the four versions in line with expectations, some users might wish a few more points in the version Pro. This applies, for example, AppLocker, and Windows To Go Creator.

Microsoft also talked about the possibilities of upgrading to a new version. Licensees Windows 7 or 8 / 8.1 will have the appropriate version of Windows 10 – for example, Windows 7 Home Premium will be upgraded to Windows 10 Home, and Windows 8.1 Pro – to the Windows 10 Pro. You can upgrade their version within Windows 10. So, Windows 10 Home you can upgrade to Pro, a version of Pro – Windows 10 to Enterprise. Prior to version Education can only be updated Windows 10 Home.
How much will Windows 10, Microsoft has not yet announced. They say that the price of a new version of the OS will be comparable to the price of Windows 8. Free new version of Windows users receive only 7 and 8 / 8.1. But to do so they will only be able within a year after July 29, and then the license can be used only for Windows 10. Another variant of free use of the OS – participation in the program Windows Insider. Participants will receive after the July 29 special key, and it will be available to all the functions, but only the test updates .
Windows 10: Microsoft explained than the desktop version will be different from each other
updated:
July 6, 2015
author: