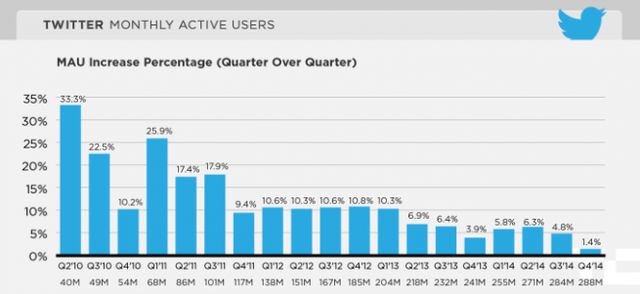 Twitter yesterday presented its balance sheet for the last quarter of 2014 and it seems that things are not going well. True, they have had a great quarter economically and even shares have risen by 7% but dangerously close to stagnation and that is very dangerous for a social network.
Twitter currently has 288 million users worldwide. Last quarter was 284 million, so a quarter have joined the microblogging social network 4 million people. For any other company that would be a success, but not for Twitter. In fact it is a failure and how to follow this path is possible that investors will begin to seriously upset.
Keep in mind that in the last quarter of 2014 grew by 1.4% Twitter. If we consider that in the previous quarter grew 4.8% decline is significant. And while it's true that always the last quarter of the year is at least growing, with the exception of 2012, the trend is clearly downward. Here's the chart where you see clearly.
You see, in the last quarter of 2013 Twitter grew 3.9% in 2012 and 10.8%. The decline in growth is considerable and it is possible that in the coming months pond. Twitter has to do something, you can not continue to be worth almost 300 million users it has. And it will not because of the unique way that is sustainable a company like Twitter is with growth, otherwise, investors will flee quickly. The continued growth is the fuel of this type of business and Twitter is running. Something to do and in fact they are already doing, but if it fails the future of Twitter is quite black.
Twitter grows increasingly
updated:
February 7, 2015
author:
Jonathan Davis