Support for Windows 10 will end in 2025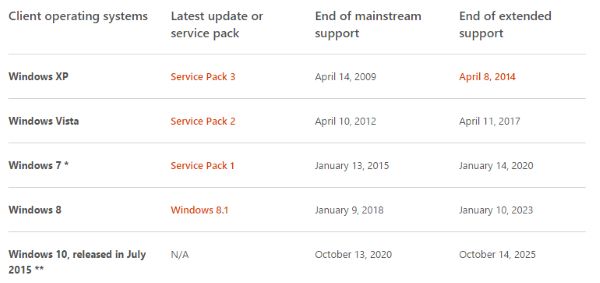 With the new Windows 10 Microsoft promises to do everything differently than before. The company will not only be more responsive to customer feedback through the program Windows Insider, but also long-term development of the operating system will run differently than before.
Microsoft plans long-term strategy "Windows as a Service", that is, the operating system will continuously improved, new versions of Windows 11 and Windows 12 is no longer as important as before. Where Microsoft is close to the approach of Apple, which continues to improve its base system OS X 10.
But now the company has published a new post, which has brought confusion. The "Lifecycle Fact Sheet" indicates that the extended support for Windows 10 will end October 14, 2025 – five years after mainstream support. That is, until October 2020, Microsoft will add new features to the system, then you can expect only bug fixes. It is indicated that an update should be installed in series, that is, without having to install the update Update 2 Update 3 will not be put. Also, not all the new features can be used on any device.
The end of support depends on the beginning of sales
However, the dates are not so simple. As pointed out by the representative of Microsoft in Germany, the ten-year cycle is measured from the start of each device. In other words, for modern devices support Windows 10 will end in 2025, the device with the next generation will be maintained until 2027.
But there is a limit. The manufacturer must keep their products for a specified period, such as updating drivers, so you can update the system. If such support will end in four or five years, there may be a problem with updates Microsoft.
Support for Windows 10 will end in 2025
updated:
July 20, 2015
author: