Samsung Galaxy S7 with Snapdragon 820 chipset seen in internal documents of Samsung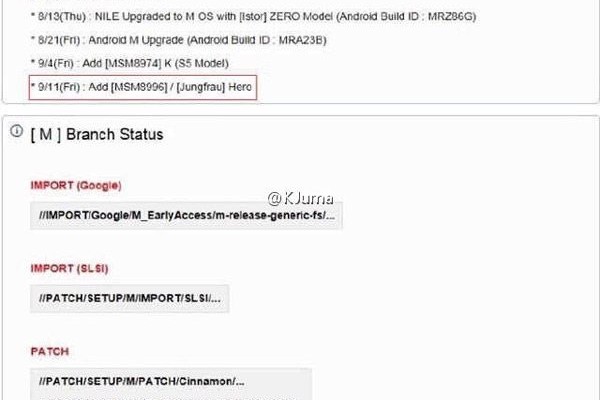 From time to time the web beginning to emerge rumors about a new flagship smartphone Samsung Galaxy S7, which, as it became known last week, thanks to the development strategy of "Agile" could be announced as early as December 2015.
Appeared today online Screenshots internal documents Samsung, regarding program updates Android M, contain a reference to the smartphone, code-named Jungfrau and hardware platform MSM8996, which lurk under the new flagship of Samsung Galaxy S7 820 Snapdragon chipset.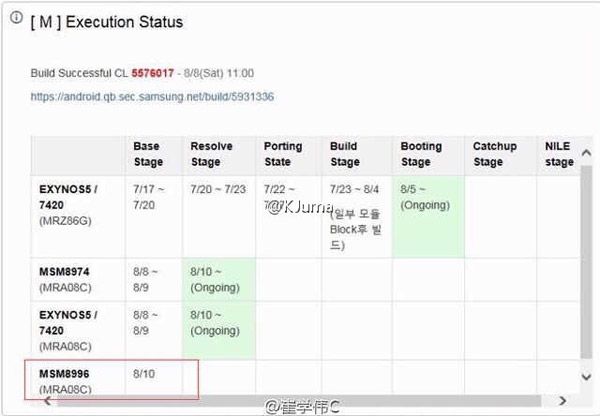 And, if these documents really belong to Samsung, the Korean manufacturer is seriously considering the possibility of using the Snapdragon chipset 820 in its new flagship smartphone Samsung Galaxy S7.
Despite the demonstrated commitment to the Galaxy S6 manufacturer to proprietary hardware platforms, the interest of Samsung to the latest Snapdragon 820 is more than justified. Used it custom kernel have impressive performance. And with the high energy efficiency of the chipset and the absence of problems with overheating, characteristic of today's Snapdragon 810, it will become a tasty morsel even for such a top manufacturer like Samsung.
Samsung Galaxy S7 with Snapdragon 820 chipset seen in internal documents of Samsung
updated:
August 10, 2015
author: