Review of Terminator Genisys: Revolution. We once again against robots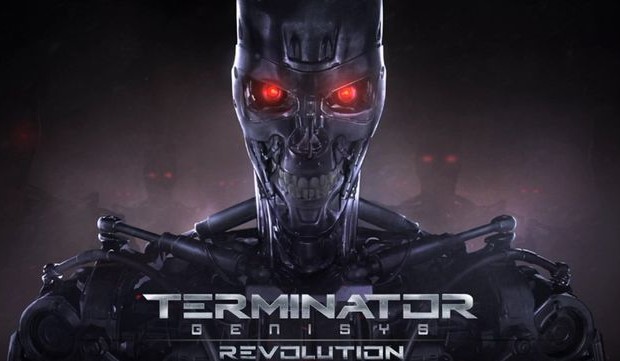 The developer of mobile games Glu is able to collect the cream from the known projects – almost after every exit famous movie was released, the company manufactures mobile game and get considerable profit from it. At the same time, the game differ very slightly and only change the storyline and the characters, while the gameplay remains the same for each application. At this time, we are pleased the release of new games on Terminator movie, which has been almost reached the world rolling. Playing movies is associated with very little, but it will not prevent us enjoy it. Shoot everything you get for that money and new barrels. Is this not the ideal scenario? However, the passage will be a bit heavier and varied, and will be useful absolutely all your skills in order to succeed. Our hero is ready to fight with crowds of termination, but shooting is very bad – you need to help him to direct sight and reduce the trigger. Are you ready for such a complex and important mission?
Terminator Genisys: Revolution: Gameplay
The toy is a rail shooter, so much hope for something exciting is not necessary. What is the "rail" of the game? It's simple – the developers think in advance where it will shoot, our hero, where he will go after the defeat of the enemy and when the mission is over. You can only shoot at the enemy and try to get into his head, causing more damage. Over time, this highly annoying – you want some independence, their own decisions and so on. In addition, due to the planned passage, you will not be able to defeat the enemy due to its strategy or cunning – or you have enough power to win, or you die. All of you almost nothing depends – brought aim and shoot until the enemy or you will not get into another world. There is inferior due to the biggest problem of all toys Glu.

Terminator Genisys: Revolution: Built buy
Game shop is full of steep trunks and improvements, but get most of these instruments of murder without investing real money, you can not. This is very frustrating to have to start – without Donata practically the whole game you'll shoot a standard barrel. Given the huge arsenal in the game, it is particularly spoils the mood. In addition, some improvements to get in-game currency is very difficult, because they are very expensive and have to invest real scope for new or butt. In addition, for real, you can recover energy and a lot of things still to do, making the passage easily.

Terminator Genisys: Revolution: Levels
What we liked the game because it is the level, although they are very similar to each other. In one you will want to shoot at the terminators from a rifle, smashing heads accurate shots and the other level will need to pick up a grenade launcher and spread the crowd of robots with one stone. There are levels with bosses, crowds of enemies, to change the direction of attack and defense. In this regard, the creators of toys did their best – play really interesting, when you do not look at the Donut and similar appearance level. Toy is not without flaws, right?

Terminator Genisys: Revolution: Result
Distributed game shareware model, when you get the game for free, but to play after a certain point it becomes difficult to impossible. Yes, you can learn to shoot accurately and to knock down the enemy shot in the eye, but when arms are too weak and no money will have to invest real. But the toy is incredibly beautiful, nice looking, and immediately attracted the attention of volume elements. You're just in time to learn how to shoot at moving targets, and then the game will go like clockwork, the first five levels.
Review of Terminator Genisys: Revolution. We once again against robots
updated:
June 10, 2015
author: