Home
/
Latest news
/
NVIDIA beginning to complete their card code for a free download Metal Gear Solid V
NVIDIA beginning to complete their card code for a free download Metal Gear Solid V
By Maria Sheen on Jul 24, 2015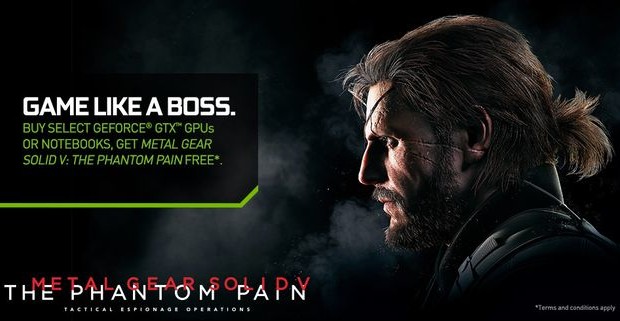 A few days ago the web there is evidence that the company NVIDIA plans to provide customers with its GeForce graphics card game Metal Gear Solid V: The Phantom Pain for free. Unfortunately, customers who make a purchase to the date of this game is not a substitute withdrawn from the kit Batman: Arkham Knight. Providing free key on Metal Gear Solid V is an independent action.
According to the official website of the California manufacturer, the continuation of the popular series by Kojima and Konami will get buyers the GeForce GTX 960, 970, 980 and 980 Ti, as well as buyers Laptop with mobile accelerators GeForce GTX 970M and 980M.
It is worth noting that the future of stealth action game with an open world game from Hideo Kojima about the adventures of Snake's agent will be released on personal computers only September 15, 2015. The cost of pre-order Metal Gear Solid V: The Phantom Pain has not yet specified.
NVIDIA beginning to complete their card code for a free download Metal Gear Solid V
updated:
July 24, 2015
author:
Maria Sheen