Microsoft co-founder is building the world's largest aircraft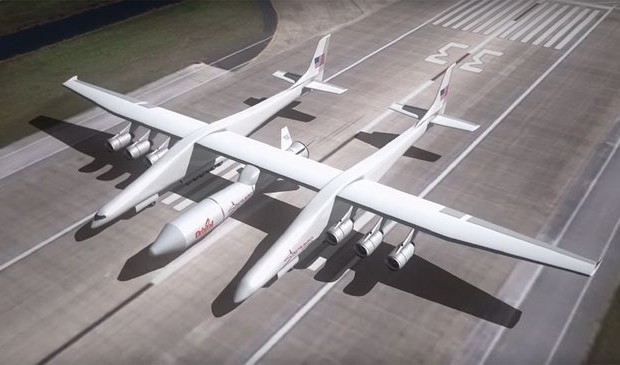 Microsoft co-founder Paul Allen announced plans to build the largest aircraft in the world back in 2011. Among its partners appear very influential figures, such as Elon Musk. We now know that the plane is really built into the port in the Mojave Aerospace (California) and is called Stratolaunch. The first tests of the huge machine is scheduled for 2016. The main task of the intended aircraft under construction Aerial launch vehicles.
The advantage of air running in the fact that they can be carried out regardless of weather conditions. There is also a considerable saving of propellant, because the motion does not start with zero speed or with the ground surface. The aircraft can be used again and again for a few starts, is also important to choose the most appropriate point for the rocket launch.
The giant aircraft will form the basis of two Boeing 747s. Stratolaunch will be hitting a wingspan of 117 m. Which is about 40 meters longer than the Airbus A380, which is the world's largest passenger airliner. Net weight Stratolaunchs more than 500 tons. For the take-off strip colossus required a length of about 4 km, the movement of which will be carried out on the gear wheels 28.
Microsoft co-founder is building the world's largest aircraft
updated:
August 4, 2015
author: