Lepa CBO announces EXllusion 240 with the ability to change the color of the coolant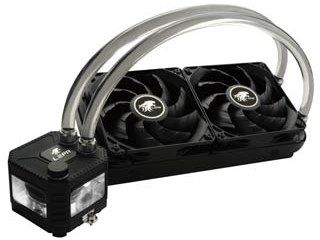 For users who need a quiet and efficient cooling of the main CPU, the company Lepa is ready to offer water system Lepa EXllusion 240 . The solution is able to cope with the most powerful chips, and the available headroom of 400 watts will allow to experiment with overclocking. The local water-block has a patented contact plate Dual-CDP (Central Diffusing Passage) with mikrorebrami, Increases heat transfer to the tank, the radiator is connected to it by means of two transparent flexible tubes.
In the contact module has a special opening through which users can add color concentrates of red, green and blue, which are included. Mix them, users will get a lot of different shades. Colored fluid can be seen not only in the tubes, and special transparent window of the water block. Note that the local pump is based on a ceramic bearing and has a mean time between failure of 50,000 hours.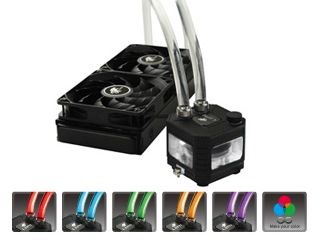 On the radiator Lepa EXllusion 240 is equipped with two 120mm fans running at a speed of 500-1800 rev / min, with a sound pressure of 30 dB and an air flow a maximum of 81,1 CFM. Connecting the PWM-coolers through connector 4-pin.
This model has compatibility with processors AMD (AM2 / AM2 + / AM3 / AM3 + / FM1 / FM2 / FM2 +) and Intel (LGA775 / 1150/1151/1155 / 1156/1366/2011) The value of the product has not yet been clarified.
Lepa CBO announces EXllusion 240 with the ability to change the color of the coolant
updated:
July 14, 2015
author: