Games with better physics engine or "hit the wall with pleasure!"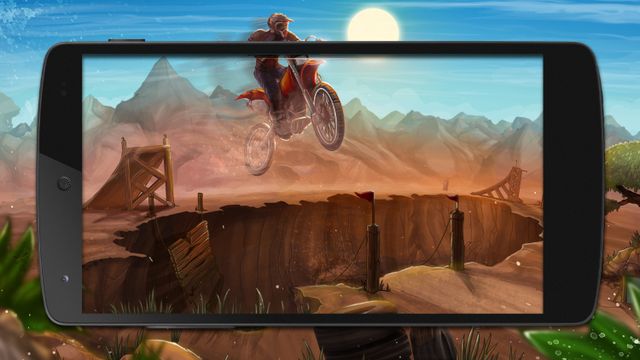 Physics engine plays a most important role in creating games for mobile platforms. They are not dominated by a graphic component, such as, for example, in games for consoles, where the presence of NVIDIA technologies and the depth of field directly affects the gameplay, mobile games most important idea and physics, because most of these games – a platformer and a variety of 2D-adventure interesting physics. It is these games are ideal for your smartphones and tablets, but which ones we liked most of all, we now consider.
Death Worm
In the camp owners Windows Phone is one of the most popular games, but among the pile of similar Android-applications it has not received such a high popularity, however, in vain. In fact, the game draws eerie, after 5 minutes, you will not be able to break away from the screen, and all thanks to an interesting idea, physics and stylistic 2D-graphics, however, you can see for yourself.
Developer: PlayCreek LLC
Category: Arcade
Version: 1.30
Price: Free
Download: Google Play
Trials Frontier
Surely you have heard about the game, and we have included it in the list for a reason. Developers often update it and bring many different innovations. Note good physics, a story that personally bothers me. The graphics are also not affected, but I want to note that these games still have not created in 3D-format, but it's every man for himself decides by himself. The game is free, interesting and sure to make you sweat, however, cripple its protagonist, at a speed of crashing into a concrete wall, it is still fun.
Developer: Ubisoft Entertainment
Category: Racing
Version: 3.0.4
Price: Free
Download: Google Play
Bad Piggies
Bad Piggies, of course, can not be considered relevant, which is why this list does not hit game series Angry Birds, but when you begin to create various inventions, completely forgetting about the relevance of the game.
You – "bad pig." Your goal – to collect all the stars and reach the finish line, it will help you in your own device, machine, invention, whatever you call it, but the trick is that you create your own your car, which is responsible for the behavior of a great physics engine, which will make it or fly or jump, or at a speed of just demolish everything in its path.
Developer: Rovio Entertainment Ltd.
Category: Puzzles
Version: 1.5.3
Price: Free
Download: Google Play
Trial Xtreme 4
Trial Xtreme 4 is very similar to Trials Frontier, but has some differences: you will not impose a silly story, just in front of you and your bike map. Physics, graphics, location – all done at the proper level. However, different parts of the past, it is not much, and most likely it's just another reason to "cut down" as much money from consumers.
Developer: Deemedya
Category: Racing
Version: 1.1
Price: Free
Download: Google Play
Earn to Die
Zombies on other platforms have become boring and rather tired, but among the games on the mobile platform this topic is still fresh and can give off its developers. Earn To Die 2 is already out on iOS, but the differences with the first part in terms of physics and graphics I have not been noticed, so the first part is still relevant. The game has its own style, excellent physics and interesting levels. Be sure to play it, I'm sure it will make you pump your car to the last level.
Developer: Not Doppler
Category: Racing
Version: 1.0.19
Price: Free
Download: Google Play
Zombie Road Trip Trials
The game became a kind of successor Earn to Die, and maybe do a parody or a copy, as you like. Zombie Road Trip Trials – this is the second part of the series, both parts we certainly appreciated and let's face it: the developers do not waste time and constantly modify their offspring. Visible low-budget project, but good and interesting physics will bring you lots of positive emotions.
Developer: Noodlecake Studios Inc
Category: Racing
Version: 1.1.2
Price: Free
Download: Google Play
Godus
We have long thought: to include in the list of the game or not, because, in reality, there is no direct physical component of emphasis, but without thinking twice came to the conclusion that the basis of the game is the physics of it, because the ability to change the landscape makes the game so appealing and interesting, more she is in first place in the top of the most popular games Google Play.
Developer: DeNA Corp.
Category: Simulation
Version: 0.0.24
Price: Free
Download: Google Play
Smash Hit
About six months ago Smash Hit was the most popular mobile game development representative. Your goal – to pass the maximum possible distance, breaking with metal balls as many glass shapes and plates. Interesting not the process of achieving distance, and the process of breaking glass, take this action a lot of positive emotions.
Developer: Mediocre
Category: Arcade
Version: 1.3.3
Price: Free
Download: Google Play
Osmos HD
Rather old game that has received its share of fans and for good reason. There is a large set of levels, each level you are given a certain substance, or rather, the planet, and your task – to absorb as much as possible of the other planets and stay only. The first levels are easy enough, but then begins mikrohaos turning into a really challenging levels where you absorb a fraction of a second. The game is definitely worth your attention, and I'm sure many have already played it.
Developer: Hemisphere Games
Category: Arcade
Version: Varies with device
Price: Free
Download: Google Play
Bike Rivals
This is the best representative of the trial, and we say this without a doubt, the interest is not lost any fraction of a second. You will not go on to the next story levels until at some stage you will not earn the required number of stars, stars give for the passed level. The faster it will pass, the more stars you will just possible to get three stars. Pros: great complexity, does not create a sense of simple and silly games, great physics, and not just excellent and the best in its genre, with its interesting graphics style. Cons: too complicated. Initially, everything is quite simple, but after the 40 levels of the game becomes unrealistically complicated, of course, all this is done, the players put real money, but about ordinary users still worth thinking.
Developer: Miniclip.com
Category: Racing
Version: 1.3.2
Price: Free
Download: Google Play
Games with better physics engine or "hit the wall with pleasure!"
updated:
February 12, 2015
author: