Review Epson Runsense SF-810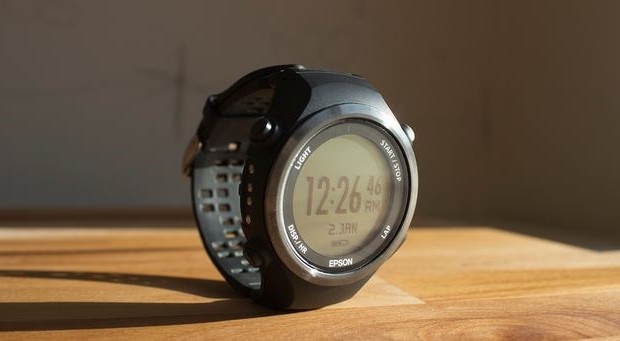 Introduction
Many perceive solely as Epson printer manufacturer, but the company is already quite a long time trying to enter the market of portable devices. GPS-Sport Watch Epson Runsense SF-810 – this is another novelty, shown last year and this year is gradually materialized on store shelves in Europe and the States. With a suggested price of $ 349 (in Russia they expected cost will be around 25 thousand rubles.), They are not only able to record your heart rate, but also to count the number of steps and work up to 20 hours without recharging. The product is good in many ways, but it only upsets unfinished software.
Design
Watch Epson Runsense SF-810 is available in two colors – black and completely black with purple accents. They have the traditional round shape with black and white LCD screen. Four buttons, two on each side, used to navigate the menu. In general, they look quite sporty and attractive.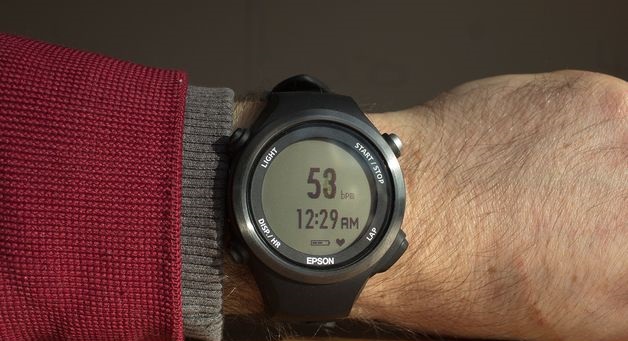 On the left side of the Epson Runsense SF-810 is four-pin connector for the charger and an optical sensor heart rate is on the back cover. To make it work properly, I had to tighten the belt tighter hours, but no discomfort it causes. The watch case is waterproof, but water tracking mode of training hours have not.
Interface and Setup
As the transition from study to the hardware capabilities of the software, our interest in Epson Runsense SF-810 gradually began to dissipate. Let's start with the fact that you can not set the time manually. Watches take the date and time the signal GPS, and if you are indoors, you will have to wait. In addition, before the next jog took us to spend as much as five minutes on the clock setting.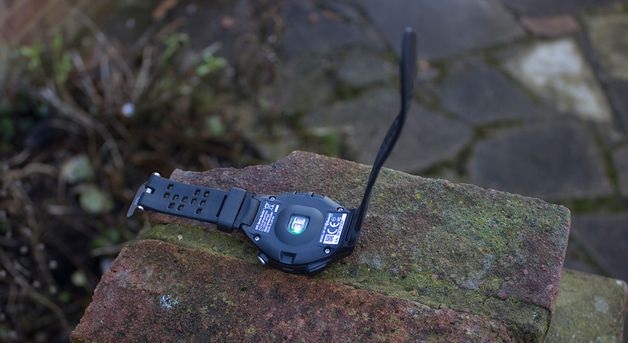 During the run of the behavior of the clock a bit frustrating. If you decided to make a short stop to drink water, you have to press the start / stop button to record workout data has been suspended. In other hours, for example, Garmin Forerunner 220 or TomTom Runner Cardio, in the display appears a small pause symbol, but the creators Epson Runsense SF-810 went on. As you click on the screen background clock switches from white to black. Thus the user has the feeling that she was not pressed a button instead pause – the inversion of the screen.
Mobile application
Epson Run Connect, without a doubt, the worst fitness application of those with whom we have worked. It is not only tasteless appearance, but also confusing menus, through which it is difficult to change the settings. Frankly, we were expecting something more refined from a company like Epson. Blue and white screen menu has seven items: "Data", "Dashboard", AGPS, "Settings", "User Settings", "Pairing" and "cabinet". Compared with other applications that automatically start when trying to initiate the process of exchanging data with the clock Runsense application requires manual synchronization start.
One of the positive features Epson Runsense SF-810 – the ability to configure a large number of screens of hours, thus you can only see the information that is needed at the moment. It is proposed to choose from 34 different metrics. However, for this you have to climb as much in four different menu ("Clock Settings", "Settings", "Setting the sensor", "Display"). To understand all this, we had to spend some time.
Work
Outdoors Epson Runsense SF-810 picked up quickly enough for GPS-Signal, and more than a minute, as a rule, not to be expected. Record tracks being very careful. The screen clock reads quite easily, even in bright sunlight, and the backlight will gain when ambient light is insufficient.
To the heartbeat sensor no complaints have arisen. Watch Epson Runsense SF-810 showed roughly the same value as the fitness bracelet Polar H7. Also, do not have any questions to the step count.
Unfortunately, after every invigorating jog faced with the grim realities of the mobile application. Even after manual installation connection over Bluetooth, in the annex have to start the synchronization process yourself. In addition, the five-mile jog log pumped into the smartphone more than a minute.
View the operation panel in a mobile application is almost completely reproduces the website. Here it is shown a calendar with dates of training, which you can obtain detailed information, including track, cardiogram, height data and pedometer. However, on a test smartphone iPhone 5S fonts and icons seemed to us too small.
Fortunately, if you do not like the application interface from Epson, you can export data to work with them in MapMyRun, RunKeeper and Strava.
Battery
On assurance of Epson, Epson Runsense SF-810 can operate up to 20 hours on a single charge. This is an impressive value, and it is twice more than the Garmin Forerunner 225 or TomTom Runner Cardio. To save energy reserve clock can automatically switch into sleep mode when they found themselves immobile for a long time. In our practice, we used the clock for two weeks, which accounted for six o'clock active training with the included GPS-receiver. The rest of the clock has started, but the receiver was switched off. As a result, at the end of the test period, the battery still had 20% charge.
It is good that the real time virtually a declaration as the cradle for charging the watch is surprisingly huge. Instead, a small piece of plastic with a plug, as in most other hours, it is a massive box that set the clock.
Results
Epson Runsense SF-810 – excellent GPS-watch, the final impression of which deteriorates due to poor software. But even if a mobile app from Epson would be on a par with those from TomTom or Garmin, the extra $ 50 price is still brought to them from the competition. Despite the less battery life, Garmin Forerunner 225 for $ 229 (not to mention Garmin Forerunner 220 with heart rate sensor) has a color screen and is much more practical for mobile applications. And if Epson will make as much effort to develop an application, as they spent on the watch, the product will be very competitive. However, at the moment it looks unattractive.
Review Epson Runsense SF-810
updated:
July 13, 2015
author: