D-Link has introduced a new universal router DIR-825 / ACF supporting 802.11AC and SFP-port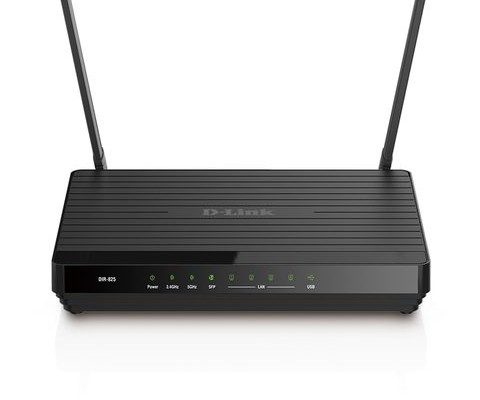 D-Link is a dual band gigabit router introduced a new generation – DIR-825 / ACF with SFP-port and the general speed of the wireless connection of up to 1200 Mbit / s, for use as a universal client device access to the network of federal and regional providers, providing a connection to the Internet on technology Ethernet, 3G / LTE or PON.
The router is equipped with 4-port 10/100 / 1000Base-T, any of which can be configured as a WAN-port port 1000Base-X SFP for connection to fiber-optic lines with SFP-transceiver GPON ONT DPN-100, USB-port for connecting a 3G / LTE-modem, USB-drive or printer, and a WPS button to install a secure wireless connection and enable / disable the wireless network.
The ability to operate simultaneously in two frequency bands It allows you to organize two separate wireless networks at a speed of up to 867 Mbit / s in the 5 GHz band and up to 300 Mbit / s in the 2.4 GHz band and take full advantage of the latest smartphones and tablets with a wireless connection based on the standard 802.11ac. Relatively free 5 GHz band recommended for the broadcast of films in HD-quality, online gaming, video chat, network camera systems, home and office surveillance, transmission and archiving of large files, including cloud storage. The traditional range of 2.4 GHz is recommended for e-mail, Web-surfing and other non-critical delays Internet applications.
Multi-function USB-port allows you to connect a 3G / LTE-modem, an external USB-drive or USB the Printer with the possibility of sharing files or a printer on a local network and remote access to the drive via FTP or Samba.
The router is optimized for use with HD IPTV-top boxes, supports DLNA-compatible devices and modern TVs with Smart TV function and can be used as a media server, and a built-in torrent-client provides the ability to download files directly to a connected USB-drive or an external hard disk without using a computer.
The actual bandwidth between WAN- LAN-port router for the connection type PPPoE / IPoE reach 940 Mbit / s.
Secure data transmission over a wireless connection provided by the use of protocols WEP, WPA / WPA2 (Personal / Enterprise). Implemented filtering by MAC / IP / URL-addresses and firewall protection function ARP- and DDoS-attacks.
DIR-825 / ACF supports VLAN, allowing ISPs to organize simultaneous access to the network Internet and services such as IPTV and IP-telephony.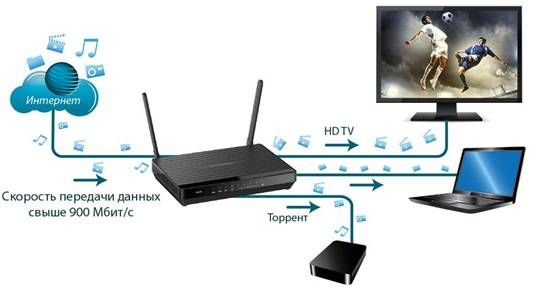 Setting up and managing DIR-825 / ACF implemented over HTTP through a Russian-language web interface and protocol Telnet. Support for embedded customer provides TR-069 remote management router from your ISP. In addition, the device can automatically notify the user when new updates server D-Link a new firmware version to its subsequent installation.
DIR-825 / ACF participates in the customization of routers under the requirements of ISPs. Detailed information about the program is available on the official website of D-Link.
The router adapted and successfully tested in the wiring diagrams are almost all Russian federal and regional providers.
DIR-825 / ACF available for order from authorized resellers of D-Link at the recommended price to the end user $ 112.
SFP-transceiver GPON ONT DPN-100 is available for order from authorized resellers of D-Link at a suggested price of $ 99.
D-Link has introduced a new universal router DIR-825 / ACF supporting 802.11AC and SFP-port
updated:
September 17, 2015
author: