Corsair Hydro GFX: MSI with Corsair will release video card with water cooling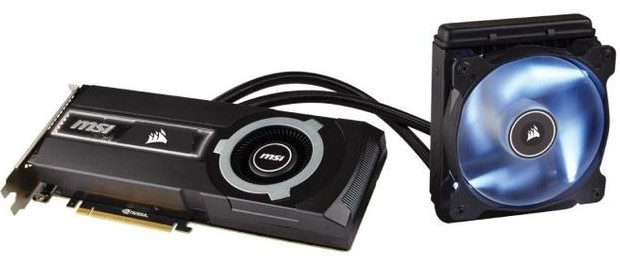 Today, the high-end segment of a growing number of video cards based in the water-cooling system or a hybrid cooler (water + air). Graphics, as a rule, use SVO closed loop (or "all in one"), and produces even AMD reference models with similar cooling system to handle the high heat chips. The first example – Radeon R9 295X2 (test and review) , later appeared video card Radeon R9 Fury X (test and review) . However, the partners AMD and NVIDIA has long produce models of their own design to the CBO. On the market today comes Corsair in collaboration with MSI.
The result of the joint work was the video card Corsair Hydro GFX. It is based on the GeForce GTX 980 Ti production of MSI, which is complemented cooling Hydro Series 120 mm H55. Improved cooling system allowed the video card to squeeze out higher clock speeds compared to the standard model. Base frequency Corsair Hydro GFX increased from 1.000 to 1.190 MHz. Boost Minimum bracket increased from 1.075 MHz to 1.291 MHz. 6 GB of GDDR5 memory and overclocked very moderate, with 1.750 to 1.775 MHz.
The theoretical acceleration is about 20 percent. Most likely, MSI used a standard video card GeForce GTX 980 Ti, for which NVIDIA provides supply Power Limit at 15 percent. Of course, overclocking potential is actually even more, MSI certainly make changes in the BIOS. In any case, the possibility of Corsair Hydro GFX can only define tests. At the moment, we test 980 Inno3D GeForce GTX Ti Hydro iChill, which in practice shows the frequency of 1.443 MHz to Boost. The test will be published in the next few days.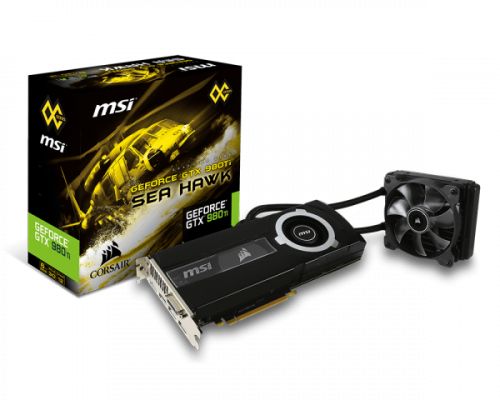 The cooler Corsair Hydro GFX takes the width of the two slots because it includes a fan for cooling the power subsystem components. Pump mounted in the housing of the cooler with water block which contacts the GPU. For heat dissipation meets external radiator 120 x 120 mm. Corsair provides a three year warranty.
The video card Corsair Hydro GFX will appear in October for $ 739. That is, at the same level as the other manufacturers are asking for the GeForce GTX 980 Ti with water cooling.
MSI graphics card is sold as the GeForce GTX 980 Ti Sea Hawk. Further information can be found at product page MSI .
Corsair Hydro GFX: MSI with Corsair will release video card with water cooling
updated:
September 17, 2015
author: