Characteristics of video card Radeon R9 Fury on AMD presentation slides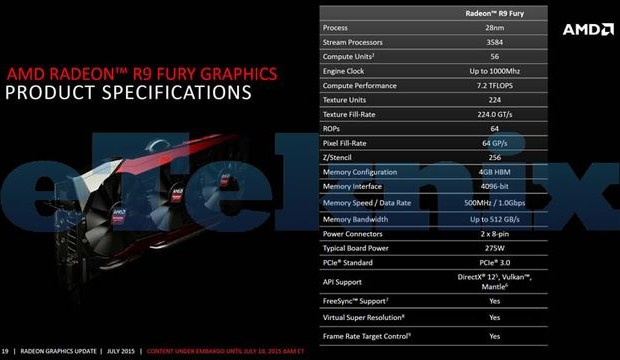 Even before the official announcement about the graphic accelerator AMD Radeon R9 Fury has been said a lot, and only a few days ago, just before the launch, the network has information about its characteristics. The day before the launch of new products in the Internet leaked official presentation slides AMD, dedicated to the Radeon R9 Fury , who finally reveals / specification confirms the upcoming trends.
So, accelerator-based GPU Fiji PRO is really a 3584 stream processors, 224 texture units and 64 raster modules. Compared to the R9 Fury X novelty was 8 calculation units less. Outside power unchanged at 225 watts, even though the frequency GPU decreased to 1000 MHz (-50 MHz). Additional power is provided by a pair of connectors 8-pin PCI-E Power, back panel offer users video outputs DVI, HDMI and three DisplayPort.
Note that in the marketing materials used AMD model image ASUS STRIX R9 Fury , pre replacing propellers ASUS logo on your own. Perhaps the company has no plans to offer the reference cooler for your news, providing partners only reference samples printed circuit board.
Recall card AMD Radeon R9 Fury must be launched on the market with a price tag in the region of $ 549 .
Characteristics of video card Radeon R9 Fury on AMD presentation slides
updated:
July 10, 2015
author: