Android Lollipop remains unused for almost anyone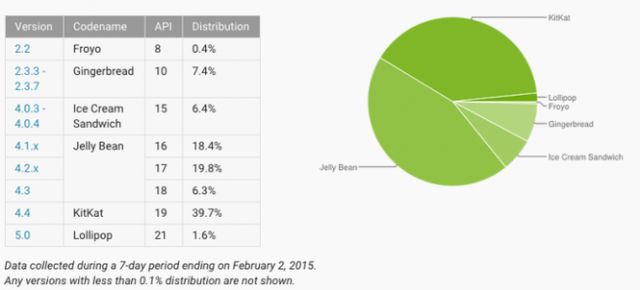 The vast majority of Android users are still unable to use the latest version of the operating system 5.0. Manufacturers continue taking too long in relation to what it takes Apple to update their devices. Obviously the Cupertino have the advantage of also being the hardware manufacturers but Android should take action on the matter.
Three months after its launch Android 5.0 Lollipop has a market share of 1.6% in relation to all Android handsets. This means that only those with a Nexus 5, made by Google, have had the opportunity to update their enabled devices. Most fault of the manufacturers, trying to customize the operating system, slow to release it so that users can download it.
The Mountain View, like every month, have published their statistics and leaves them no good standing the latest operating system to arrive. In fact, the only OS that is below is Froyo, version 2.2 of Android and the oldest of which Google tracks, with a share of 0.4%.
Android Jelly Bean, which includes versions 4.1, 4.2 and 4.3 remains the most extended version, with a market share of 44.5%. Next in this classification version 4.4, also called KitKat and having a percentage of 39.7. Ice Cream Sandwich and Gingerbread are below a percentage very similar between them.
Anyway, luckily for Android users, application updates as Gmail, Google Maps, Google Wallet, etc., are performed by Google Play, so you do not have to wait for an update of the operating system upgrade, pun.
Anyway, Android should do something. It is normal for the most used operating system in the world can offer only a tiny percentage of its users their new versions. Android Lollipop is a big step for the Mountain View but almost can not enjoy.
Android Lollipop remains unused for almost anyone
updated:
February 4, 2015
author: